May be obvious to most users (but it wasn't to me)
Here is a script to draw a cube (curvy 1.5) (always save work BEFORE using a script)
http://www.banjosculptor.info/boxscript.txt
(right click save as)
Principle
1 Draw an approximate curve to shape required.
2 reduce resolution slider down till hard edges formed
3 convert to mesh
4 use flatten tool as required
notes
result is not good for curvy maps as is low resolution BUT curvy map
slider useful as it changes the shape of the object.
End of script shows me playing with lights as i find the cube useful for looking at the light maps.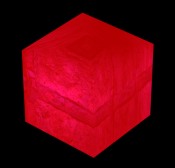 edit: curvy 2 inflate makes it far easier